Desktops as a Service: Is It Right for Your Business?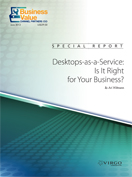 One of the biggest IT costs in any organization is end-user computing. If yours is like most IT departments, you replace desktops and laptops about every four years and update your desktop productivity tools at least that often. That in itself is a major expense, but it's just the beginning. There are also security software, patch maintenance, backups, trouble shooting, support, industry or business-specific applications and more. Anything that helps control those costs is worth a good, long look. Enter hosted virtual desktops (HVD). However, many organizations have found that implementing HVD on their own is complex, so increasingly they are turning to service providers for a cloud-based option called desktops as a service (DaaS) for its simplicity and subscription-based pricing.
Please fill out the form below to have this article emailed to you.