Identifying Innovations in Storage Technologies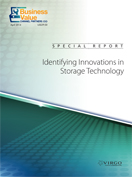 Video. Mobility. Cloud computing. In the world of information technology, these are just three of the hottest trends today. While each offers transformative business benefits to the organizations that invest in them, they create an institutional challenge that is giving fits to CIOs everywhere. They produce massive amounts of data — information that must be stored, optimized and leveraged in new ways. Fortunately, the technologies and best practices used for storing, managing and leveraging data have improved significantly in the last few years. While there is no one-size-fits-all answer to solve a CIO's problems today, there are more options and capabilities to choose from than ever. In this Report, we highlight some of the advances in storage technologies that are helping users like you get their minds and arms around the data that is literally and figuratively swirling all around you.
Please fill out the form below to have this article emailed to you.