Is a Big Data Solution Right For Your Business?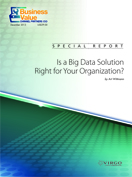 It takes only a quick scan of any IT news site to see that "big data" is all the rage, but it takes some investigating to uncover what's important and to whom. In the final analysis only a subset of companies will need new tools to deal with the increasing volume and variety of data they need to analyze, but nearly all can apply the thinking behind the big data craze to improve their business processes. This Report takes a look at big data analytics — the drivers and platforms and alternatives in cloud-based analytics tools.
Please fill out the form below to have this article emailed to you.