Making Critical Cloud Connections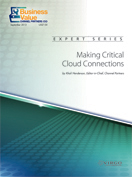 Cloud buzz surrounds every technology discussion these days, but what often gets left out of the conversation is perhaps the most critical part: the network between a company and its cloud. After all, a cloud is only as secure and reliable as its connection. This fact presents an opportunity for channel partners to open a 'cloud-enablement" practice area, helping customers transition their networks for the cloud.
Please fill out the form below to have this article emailed to you.