RapidScale Product Guide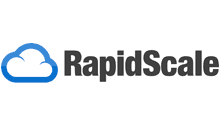 RapidScale is a global leader in Desktop as a Service. With our CloudDesktop you can access your apps, on any device, globally. Let our CloudIntelligence team design the right CloudDesktop solution for you. We are the next generation computer.
CloudRecovery: Our disaster recovery and business continuity services focus on securing your data and ensuring minimum downtime. We ensure that in the event of a disaster your business applications and data will be safe and accessible. Our CloudRecovery platform runs on top of our state-of-the art and secure infrastructure located in data centers throughout the world. We securely replicate your information to our data centers.
Infrastructure as a Service abstracts hardware (server, storage, and network infrastructure) into a pool of computing, storage, and connectivity capabilities that are delivered as services for a usage-based (metered) cost. Its goal is to provide a flexible, standard, and virtualized operating environment that can become a foundation for Platform as a Service (PaaS)and Software as a Service (SaaS).
Microsoft Exchange Online provides business-class email, calendar and contacts to your PC, phone and Web browser. Delivered as a hosted service from Microsoft, Exchange offers a high standard of physical and digital security for your information while providing the control you want and the reliability your business needs.
CloudOffice is an all-encompassing Cloud solution designed with the SMB marketplace in mind. Small- and medium-sized businesses are leaders in adopting new technology and all too often that technology is priced out of their reach, but not any longer!
Please fill out the form below to have this article emailed to you.