The Business Value of SIP Trunking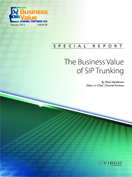 SIP trunking is an in-demand solution — uniquely offering significant cost savings as well as feature enablement. In the simplest terms, SIP trunking replaces legacy circuit-based connectivity from a company's business telephone system to the outside world. Along with definitions and demand statistics, this report will cover:
How SIP trunking reduces costs and optimizes assets
How SIP trunking creates efficiencies and streamlines management
How SIP trunking enables applications such as UC and BC/DR
Please fill out the form below to have this article emailed to you.