Understanding Mobile UC Options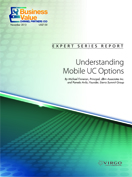 A number of solutions fall under the "mobile UC" umbrella. Some operate independently of the business telephone system while others depend entirely on it. Some require a software client on the mobile device while others are completely transparent. Some work exclusively on the cellular networks while others use a combination of cellular and Wi-Fi . In an effort to sort them out, this Expert Series Report starts with the simplest examples and progresses through the more complex mobile UC options.
Please fill out the form below to have this article emailed to you.