What to Look for in an Outsourced Data Center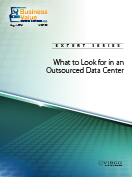 Investment in data center outsourcing and colocation in North America has increased by 13 percent in the last 12 months and is expected to increase another 15 percent by the end of 2014, according to a report published in January 2014 by DCD Intelligence. The research firm found that nearly a quarter of all data center footprint in the region is now outsourced, for a total market value of $8.8 billion. Aside from core infrastructure differences in electrical, cooling and network topology, a data center is only as good as its owner/operator. This Expert Series Report discusses the different types of services, facilities and operators and what you should look for in an outsourced data center.
Please fill out the form below to have this article emailed to you.