Why Cloud Supports BC/DR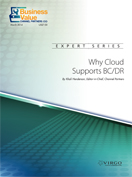 Headlines about devastating tsunamis and tornadoes are stark reminders to businesses about the need for disaster recovery measures. The threats to business continuity typically are less dramatic, although nonetheless debilitating. From server crashes to snow days, stuff just happens to interrupt business as usual. The costs of these interruptions can be significant. But preventing them also has come at a high cost, leaving many well-intended businesses vulnerable. Cloud solutions, however, represent a new opportunity for companies — small and large — to achieve needed redundancy of not only data but also vital systems, applications and communications without a huge price tag.
Please fill out the form below to have this article emailed to you.